Earlier I blogged a very few words and embedded a story about Charlie Sheen. Subsequently I've seen so much traffic on Television, Twitter, Facebook – just generally in life. It occurred to me that I hadn't noticed any discussion about celebrities that have kicked an active addiction into Recovery (working) 🙂 I thought to myself: "I should bitch (blog) about that!" but I continued on with whatever life on life's terms I was currently involved in. This morning a buddy sent me a picture that motivated me to do a bit of research.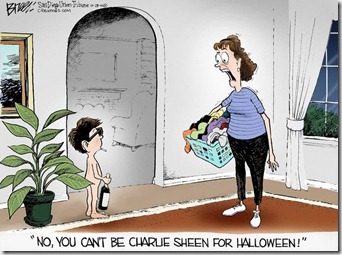 What a fantastic opportunity for television, newspapers, tabloids etc. with huge followings to just take a paragraph or less to mention some success stories and resources for those of us with addiction, our families and coworkers.
Bummer Charlie I really like the show: "Two and a half men". Hey Chuck Lorre (@realChuckLoore) why not continue the show without Charlie. Here is the plot. Send Charlie to rehab. Then Alan and Rose could have (?another?) affair or any of another quadjillion other hilarious possibilities. The show has plenty of great characters… It could survive on it's own. And what a message that could send to Celebrities and addicts. The world can survive without you. If Charlie is successful in real life getting his shit together he could return to the show further enhancing it. But I digress…. 🙂
I started my quest on bing with "celebrities with addiction" then moved on to "artist name addiction advice"
Check out this gallery http://www.thedailybeast.com/galleries/2573/1/ Many dead celebrities 🙁 only a couple mentions of recovery.
Cool! Here's an interesting story about Gwyneth Paltrow getting some advice from Robert Downey, Jr. apparently sober now regarding the experience of addiction for her role in: "Country Strong"
Check out this article on Elton John, one of my favorite composers.
"John lists getting sober among his life's great achievements and talks about how he chose "boot camp" style rehabilitation rather than the luxury many celebrities favour."
A nice interview of Joni Mitchell reveals this: (I love her album: "Blue". It's very influential on my spiritual self)
RD: Did you ever have problems with drugs or addiction?

Mitchell: I did, briefly. I didn't get involved for years, and then I went on [Bob Dylan's] Rolling Thunder [tour] and they asked me how I wanted to be paid, and [it was like] I ran away to join the circus: Clowns used to get paid in wine – pay me in cocaine because everybody was strung out on cocaine. It was [Tibetan Buddhist spiritual master] Chögyam Trungpa who snapped me out of it just before Easter in 1976. He asked me, "Do you believe in God?" I said, "Yes, here's my god and here is my prayer," and I took out the cocaine and took a hit in front of him. So I was very, very rude in the presence of a spiritual master.
Cool. Hope you liked those. Continue the search with your favorite celebrities and discuss in the comments.
c ya… – jeffa